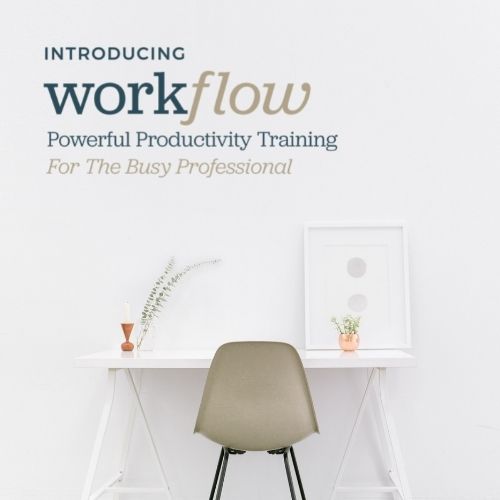 Anxious, overwhelmed, unfocused, demotivated, busy, stressed. These are just some of the words I am hearing from busy individuals all over the world, trying to balance work and life.  If you have ever used these words don't sweat I've been helping people get more productive since 2007.
I am very familiar with the struggles because I was once chaotic, disorganised and frustrated but in the past 10 years I've written 3 books and an audio course and also achieved a Masters in Business while helping some of the biggest organisations create more productive teams.
Wiley commissioned me to write Productivity for Dummies, Audible to write their Get Organised course and Insight Timer to create content for Insight Timer @work.
If these big brands sought me out and trusted me you can too. I know how to transform any struggles into solutions. I've worked alongside CEOs and I've even helped chefs get more done.
What Exactly is Workflow?
Workflow is a hybrid productivity programme consisting of online self study modules (in bite sized lessons) and weekly 1 hour live virtual training sessions. This format requires minimum effort for maximum output! It will ensure you get the opportunity to work in your own time but have the structure and support of a class to keep you motivated, accountable and on track.
The course runs over 8 weeks, helping individuals absorb the material gradually and implement the lessons learned.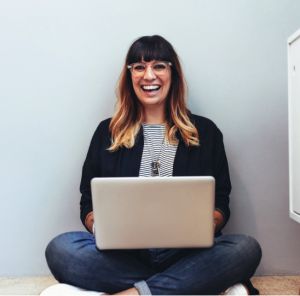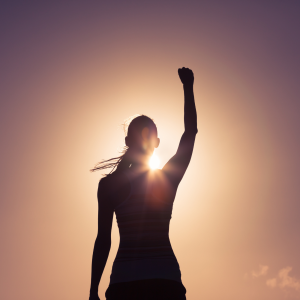 The course is for busy and ambitious self employed people or professionals who wants to be super productive but still have a life. This course is essential learning for anyone who had identified areas in their personal organisational that need to change. If you feel your disorder is holding you back in this course you will learn how to get organised, create systems and structure as well as balance at home. You will understand what changes you will need to make in order for life and work to flow.
What Past Participants have said:
"Workflow was a game-changer for me in terms of how I plan ahead. Previously I would get very stressed and feel overwhelmed and sometimes even paralysed. Since taking part in the course I always have a game plan and know how to get back on track when things get crazy."
Fiona Kelly
Director of Executive PA Forum
"Ciara's course helped me to work smarter and create better boundaries. It also helped me drastically reduce my stress and feel more in control. So much so I have had the capacity to expand my business, something that wouldn't' have been possible with the course and Ciara."
Taralouise McCaughey
Zinc Media Agency
"Workflow has helped me get clear on my goals and priorities and showed me how my mindset was crucial to increasing my productivity and performance. All of the strategies and support I got from this course gave me the confidence to go after my goals and change my career."
Cora Garvey
CoraYoga.ie
"I finally understand how I can fit it all in, time to work on my business, my writing and spend quality time with family "
Rachel Killen
Killen Communications
"Ciara helped me get more organised, so much so that I finally found the time to write my book"
Orlaith Carmody
Business woman, journalist and author
"Ciara has helped me to focus on my priorities and be very aware of how I spend my time, focusing my attention on the right projects and clients."
Fiona O'Reilly
Owner On the Dot.ie
WEEK 1: THE HIGH PERFORMANCE MINDSET
In Week 1 you will become more aware of your mindset and how it maybe impacting your productivity. Mindset is important in all areas of our lives but when it comes to your ability to get things done we want to sure you are not sabotaging your potential for success. This week you will learn techniques and strategies for upgrading your mindset in all areas of your life.
WEEK 2: ACHIEVE MORE BY DOING LESS
Week 2 is all about making space. Making sure that your are spending your time on the right stuff and not wasting time doing work that others should be doing, duplicating work or wasting time looking for files or notes. We want to be as efficient and focused as possible so week 2 will eliminate the things standing in your way.
WEEK 3: DESIGN A LIFE & BUSINESS THAT YOU LOVE
Having a clear vision for the future that feels real and accessible is the focus of week 3. Equipped with your vision workbook you will spend time visioning your ideal future for both your life and business.
WEEK 4: FROM VISION TO REALITY, SETTING THE GOALS
Week 4 gives you all the tools for setting the goals from your vision, how to we go from high level view to making progress towards our ideal picture.
WEEK 5&6: HIGH PERFORMANCE WORKFLOW
Week 5 and 76focus on Daily Workflow, how to translate your vision and goals into action. Over the two weeks you will create a simple system that will keep you focused and on track daily. You will learn best practice calendar management, task management and email management. At the end of the two weeks you will have a robust system that will keep you feeling in control.
WEEK 7: FORM MONK LIKE FOCUS
In week 7 we learn to manage the distraction all around us. Information overload is part of our everyday. For this reason, it is important we are in control of the multitude of information and distractions that come our way each day. This week you will get the tools to become a focus machine!
WEEK 8: HIGH PERFORMANCE HABITS
In week 8 we will focus on how to reach your goals through daily habits. We will make all the good stuff you have learned so far in the course into habits.  We will identify the habits of high performers and work on establishing the habits that will sustain you into the future.
BONUS CONTENT: AVOIDING PROCRASTINATION & OVERWHELM
By the end of the course you will know how to say goodbye to procrastination and overwhelm for good. You will understand what causes you to get stuck or self sabotage and you will have strategies to prevent it in the future.
How does it work?
Self Study Modules (short bitesized weekly lessons to be watched in your own time)
A weekly workshop/call where we get to cover the topic for the week and Q&A
Personalised support and accountability
Practical exercises to implement changes as you go
A course guide/workbook
Pay in Full €995 or pay deposit of €250 & 3 Monthly payments of €250  Book a call to discuss payment